Temporary home could be built at West Acton Community Cente
Participate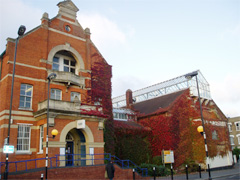 Acton Baths ESC current home
Ealing Swimming Club (ESC) is hoping to raise enough money to open a temporary pool in West Acton by Spring next year.

Acton Baths in Salisbury Street is the club's current home but ESC are expected to leave in November in advance of Council plans to build a new pool.
In the interim, there are concerns that the 300 club swimmers will be unable to continue to train professionally.
ESC manager Johnny Wright says they have arranged to use Gurnell and The Janet Adegoke Pool in Shepherd's Bush but are now considering building a temporary pool, which will be ESC Acton's own for three years before returning to their new 'home'.
They have identified the West Acton Community Centre as a possible site and are confident they can get planning permission. The club will need to raise around £350 000 but are positive about this and have already identified a pool designer/builder.
The temporary pool would mean ESC could run a Learn-to-Swim programme for both children and adults, run courses for the 23 schools in the catchment area, be open for some public swimming and, continue to run the ESC Acton Training Programme.
Mr Wright says: ''This is a very ambitious plan. As far as we know nothing quite like this has been achieved before and, in all honesty, it may prove to be beyond our capability. But we are certain that this is the best way of keeping an outstanding ESC 'House' at the forefront of local swimming.''
''Stick with us. We shall do our best to make this happen but we will only do it with both swimmer and parent support. We shall also make it our business to keep all of you fully informed on progress.''
18th July 2011