Huge support for Margaret Noel brings torch procession to temporary halt
Although the Olympic torch didn't come to Acton it looks like Acton came to the Olympic torch as Margaret Noel seemed to attract the biggest crowd of supporters of any of the participants.
Before the big day Margaret said: 'I am writing to invite you, if you are able to attend, please bring your flags, whistles, drums and help us light up the route. Everyone welcome to what I am sure will be a memorable event.'
This appears to be exactly what people did with a crowd of yellow shirted fans swamping the procession today (24th July) and bringing it to a temporary halt. A large banner saying 'Go Mum' was clearly visible.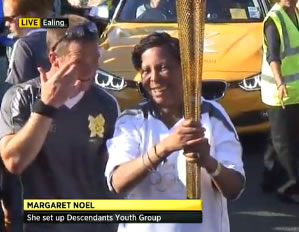 Margaret takes hold of the torch
Margaret has worked voluntarily in Ealing for over 20 years and set up Decendants - a youth charity based in Acton.
Most recently, she established `A Mothers Tear Drop`, an organisation dealing with the emotional onset of gun and knife crime in the community.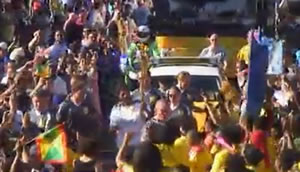 Fans mob Margaret during the procession
Described as 'a very positive, heart warming, inspirational, yet humble being' , Margaret was nominated by her daughter who said she is ''A friend to the young and old, a role model who is passionate and willing to help using her knowledge and wisdom to make a positive difference in her community.''
Margaret is overjoyed to have been chosen to take part in the Olympic relay through Ealing and says:
''I love the Olympics and watch it where ever it is in the world. To be given the opportunity to carry the flame, words cannot describe my feelings. Imagine Muhammed Ali carried the flames! I feel as if I have won a million pounds.
Descendants book "Echoes from the past" now available
July 24, 2012