Margaret Noel's carrying the flame next week
Descendants founder Margaret Noel will be carrying the Olympic torch on 24th July 2012 in the Borough of Ealing.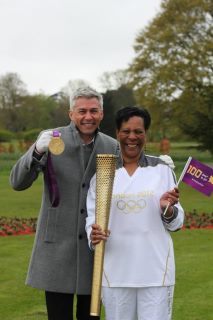 Margaret alongside Jonath Edwards CBE
She's urging everyone to come out on the day and show their support.
Margaret's number of the torch relay leg is 122 and her section will travel along Lady Margaret Road from Lady Margaret Road and finish at House number 52 Lady Margaret Road.
This journey will start at about 17:42pm and cover a distance of 350 yards.
Friends and family stand on the left, she says there will be a sign with my name on it.
Margaret says :'' I am writing to invite you, if you are able to attend, please bring your flags, whistles, drums and help us light up the route. Everyone welcome to what I am sure will be a memorable event.''
Read more about the Olympic procession and torchbearers in Ealing here
Descendants book "Echoes from the past" now available
19th July 2012