Tories claim it's insensitive to the needs of the local area
Claims that the ruling Labour group on Ealing Council is supporting an unpopular regeneration scheme in Acton have been dismissed as untrue.
Ealing Conservatives say the current proposed scheme for the Oaks Shopping Centre site is a failure and a wasted opportunity to improve the attractiveness of the area.
Cllr David Millican, Conservative Opposition Leader said: ''Regrettably, the Labour Council is supporting a scheme for the Centre which is insensitive to the needs of what local residents want to see happen.
''Rather than using the opportunity to encourage a scheme that is creative and will strengthen the regeneration of the Centre, Labour has opted to lend their support to a scheme that is of poor design, has lots of housing, with little parking and amenities. In short, anti-residents.''
A Labour spokesman said: '' The Labour group does not have a position on this planning application. We do not take positions on planning applications. They are each assessed on planning grounds when the application reaches the committee. Members cannot prejudge applications.''
Meanwhile local architect David Buckingham describes the current plans by Acton Regeneration Corporation (ARC) architects Stock Woolstencroft as ' an alien monolithic concept at a scale which unsympathetically dwarfs and conflicts with the surrounding historical townscape.'
He has outlined proposals for an alternative Oaks development in his website www.theoaksalternative.co.uk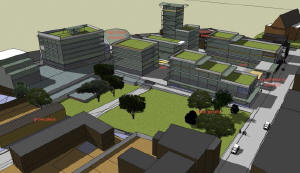 Mr Buckingham has suggested an underground car-park, a central plaza and relocating the controversial 11-storey tower from Churchfield Road, to be included within the site.
The architect says his ideas are starting point for debate, and are emphatically not a finished design. He is urging everyone to look and comment.
19th September 2012