Development featuring a 'periscope' style building is proving unpopular
New proposals for The Oaks Shopping Centre have received a frosty reception with a 'landmark' building being dubbed 'the periscope' by W3 locals.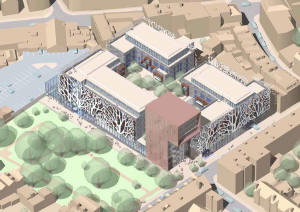 The revised set of plans have been on display at the shopping centre and are online here.
The developers, the Acton Regeneration Company, say they are aiming to create a 'vibrant, mixed-use development in the heart of Acton.'
The overall bulk of the scheme has been reduced with only one section higher than the rest. However, the proposals don't reveal exactly how high the new landmark building is to be - one resident was initially told it could be 14 storeys - which prompted outrage.
The company has now clarified the confusion and told Acton W3.com: ' To be clear, the landmark building is proposed to be 10 storeys – a commercial ground floor plus 9 storeys.'
ARC say the mixed-use development will provide 'high quality sustainable new homes, pleasant open spaces, safer parking and improved pedestrian access to the Oaks, and will contribute to the wider regeneration of Acton Town Centre'.
The proposals (pdf) promise to bring employment and new retailers, including a new high quality food store.
John Bourne from Acton Regeneration Company commented:
"The inclusion of the Council car park on Churchfield Road has allowed us to revise our proposals for The Oaks. This is an exciting opportunity to use the redevelopment of The Oaks to support the wider regeneration of Acton. As well as making The Oaks a shopping destination, the inclusion of homes means we can create an active and vibrant town centre community.
The proposals are designed to respect and complement the existing neighbourhood, and enhance residents' access to open spaces and create better pedestrian links to the The Oaks".
Initial comments on the Acton W3 forum about the scheme have not proved favourable.
Former Councillor Vlod Barchuk has described it as '' Absolutely ghastly, like a 60's development landing in your back garden.''
He says : '' The developers clearly have not understood that much of the town centre sits in a conservation area (for what it's worth), which will be a powerful argument for not introducing a new building that overpowers existing structures.''
Prior to the application being submitted to Ealing Council, ARC are looking for comments about the scheme which will be collected until 4th May.
The planned timetable would see work starting at the end of the year, with the centre opening in 2013 and the new homes available from 2015
What do you think? Discuss on the forum
26th April 2012