Wants the deadline period extended after claims of inadequate consultation
An Acton Councillor will be complaining to Ealing's Chief Executive over the handling of the Oaks planning application.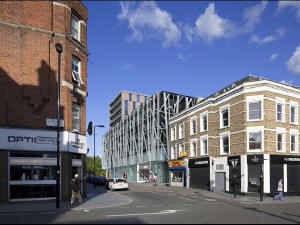 The Acton Regeneration Company has submitted revised plans to transform the shopping centre, which include building 150 new homes in an 11 storey tower.
Dan Crawford - who represents the ward where the controversial development is due to be considered - says communication failures by the planning department have meant he has been 'robbed of his democratic right and legal right' to make known the views of his constituents.
The Labour Councillor says although the details of the revised application were apparently circulated to the members room he hadn't received them, and was not aware of the revised application until too late. He says many local residents didn't know about it either.
The deadline for public comments regarding the shopping centre redevelopment has now passed and Councillor Crawford hasn't been able to file an objection letter in time.
Writing to Ealing's Head of Planning Aileen Jones, he says:
'' Given the unpredecented level of local objections to this ridiculously unsuitable proposal, had I received such a notification of a revised planning application, I would have immediately begun the process of submitting a strongly-worded and detailed objection as a ward councillor on behalf of the hundreds of constituents.''
Councillor Crawford wants the deadline for comments to be extended and has complained to Martin Smith, Ealing's Chief Executive, adding:
'' I find it deeply disturbing that the process of consulting a local councillor, let alone the people who will have to live closest to this development, should go so badly, badly wrong.''
The Labour Councillor has found an unlikely ally in his bid to get the consultation extended.
The Conservative MP for Ealing Central and Acton, Angie Bray, has her own concerns and has told Acton W3.com this morning:
'' "This has proved to be a very fraught consultation process with a lot of strong feeling around in the local community. Given that a lot of the consultation took place over the holiday season, I think the Council would be doing the right thing by local residents by extending the consultation period."
A council spokesperson said: "Cllr Crawford's complaint has been received and it is being investigated. "Both councillors and residents are still welcome to offer their comments on the application."
6th September 2012