Landlord breached regulations and 'lined his own pockets'
An Acton man has been ordered to pay more than £41,500 after illegally converting his family home on Noel Road to accommodate up to 14 people.
After investigating complaints, Ealing Council enforcement officers discovered that Mr Muhammad Sohaib Anwar had changed the use of his property from a single-family home to a House of Multiple Occupation (HMO) without seeking planning permission.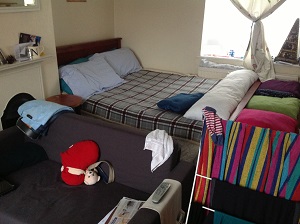 Mr Sohaib Anwar had split the first floor of the family home into sections and changed the layout to create a nine bedroom house. Tenants paid up to £400 per month in rent for each room and shared kitchen and bathroom facilities.
Mr. Sohaib Anwar was served with an enforcement notice under the Town and Country Planning Act (1990) to cease use of the property as an HMO, remove one of the kitchens and return the property to its former state as a single-family home.
He appeared before Ealing Magistrates Court where he pleaded guilty to a charge of failing to comply with an enforcement notice for breaching planning permission . On Monday, 29 September, at Isleworth Crown Court he was given a confiscation order of £31,969 from the benefit of his criminal conduct and sentenced to pay a £2,500 fine and £7,088.95 in costs – bringing the total to £41,557.95.
Council leader, Councillor Julian Bell, said: "Mr Sahaib Anwar was given several chances to comply with planning laws, but instead chose to line his own pockets.
"The council is committed to improving the quality of privately rented accommodation and to increasing the supply of rented property but we will come down very hard on bad landlords who break planning or environmental health rules and exploit their tenants."
Anyone who suspects someone of carrying out major work without planning permission should report concerns to the council for further investigation.
Residents can find out more about planning, search for a planning application or decision at: www.ealing.gov.uk/planning
7th October 2014