Nicky Defries was seriously hurt in a road accident last year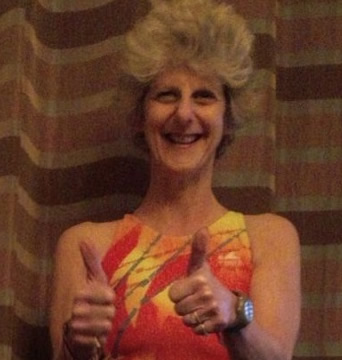 A cyclist who was badly injured after a collision with a lorry is swimming 100 miles (over 6,000 lengths) in Acton pool to raise money for London Air Ambulance.
Nicky Defries who's from W3 says: '' On Wednesday 12 July of last year at about 11.45 I was cycling home from my yoga class, when a lorry hit me from behind and then ran over my right leg and left ankle with its two double back wheels. This occurred in West London round the corner from Hammersmith Hospital. I remained conscious and in agony, until someone said to me after what seemed a very long time, 'Nicky I am a doctor and I am going to take all the pain away.'
''What I know now, but did not then was that my left leg was severely injured. I had lost all the fats, and most of the skin from my leg, as well as breaking my knee in two places.
''I never saw the doctor, and would not be able to even recognise his voice again, but my husband, Tony, who arrived on the scene has told me he was amazing.''
This doctor and his team were from London's Air Ambulance - a charity which provides pre-hospital medical care in life threatening situations such as serious road traffic collisions, industrial accidents and injuries on the rail network. It serves the ten million people who live, work and commute within the M25.
Nicky, who is still on crutches, has already swum over 400 lengths with 6,000 more to go before she reaches her goal. She aims to finish on the 12th of July this year which will mark the first anniversary of her accident.
" I can't run or hike, but I am and always have been a swimmer. The day my doctors told me I could swim again was a celebratory day for me," says Nicky. "I have never done something like this before, but I want to give back to this amazing service that was there when I needed it."
Laura Griffiths, general manager of Everyone Active Acton, said, 'We are extremely honoured that Nicky has chosen to undertake such a fantastic feat at our centre. London's Air Ambulance is a very worthwhile cause and we are behind her every step of the way.'
For more information or to make a donation please visit here
16th January 2018