At a new study centre in Park Royal
Schoolchildren throughout Acton could soon be given the chance to experience a new, exciting, education centre, courtesy of National Grid.
The company is currently involved in putting in a major access shaft to its new cross-London cable and has set up a special study facility to help schoolchildren understand the work.
Pupils will be given the chance to view some of the expert tunnelling work going on at the site, and will be able to study energy and electricity through a series of computerised games and classroom experiments.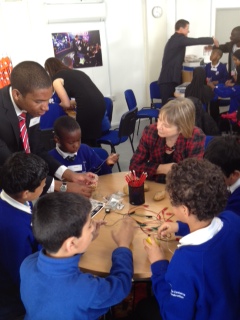 Ealing Central and Acton MP, Angie Bray helped launch the facility in Park Royal and said:
"The UK needs many more young people to take up careers in science, engineering and technology.
''What better way to motivate their interest than to have the chance to come to a real working site and see how the energy they use is being driven through London?
''I shall be writing to schools in my constituency encouraging them to make the most of this fantastic opportunity."
June 18th 2012