Open weekend 15th/16th March
On Saturday 15 March and Sunday 16 March 2014, London Transport Museum will open the doors of its Depot in Acton, for a weekend of bus themed activities.
A live steam bus, a stunning replica of Hancock's 1833 Enterprise, will be running all weekend in the grounds of the Depot. Visitors will also have access to the Depot's vast collections and an exciting line up of activities and special exhibits, including model layouts and behind-the-scenes curator tours, as the Museum continues to celebrate Year of the Bus.
The Depot is home to over 400,000 objects, including posters, engineering drawings, signs and ephemera and an extensive collection of historic road and rail vehicles. As well as the chance to explore this fascinating store of transport treasures, there will also be a number of activities celebrating the iconic London bus.
Other activities include:
Live replica of Hancock's 1833 steam bus Enterprise, the first ever mechanically propelled public service bus
A unique chance to see inside some of the buses in the Museum collection (16.00-17.00 only)
A mini bus rally from private collections
What's that bus? - Volunteer led talks of specially selected buses
Heritage bus runs in the Acton area
Bus pit tours – see what lies beneath the Museum's heritage buses from the bottom of the pit
Rides on the Acton Miniature Railway
Bertie the Bus storytime: 11.30 – 11.50 and 14.30 – 14.50
Hear the tale of Bertie the Bus as he welcomes all the passengers who climb aboard. From his favourite customers to the dreaded Nasty Nathan, he takes care to take them all to their destinations.
Make and Take: 12.00 – 13.00 and 15.00 – 16.15
Create your own magnetic Bertie the Bus and fill him with passengers, both nice and nasty! Make up stories about the people travelling on board your bus while you decorate it with fabulous designs.
Booking information at www.ltmuseum.co.uk. Tickets are £10 (£8 concession) – children and young people aged 17 and under go free. Advance booking is recommended.
There will be another opportunity to enjoy the Depot this year. On Saturday 13 September and Sunday 14 September the Depot will open to the public again. Tickets will go on sale from February 2014 and they will be valid for both days. The theme will focus on the role of London's transport during the First World War.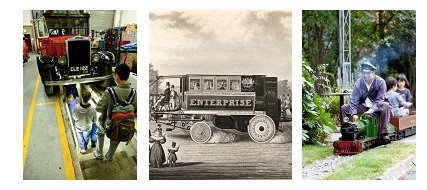 12th March 2014