The Lucozade sign next to M4 was replaced over the Christmas holidays
A petition calling for the the return of an iconic west London advertising sign has reached over five and half thousand.
The Lucozade advert (or a similar version) has been situated on the building on the Great West Road next to the M4 since the fifties. It's much loved and seen by many returning from a long trip outside London giving the first indication that they are close to home.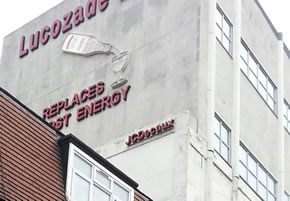 Over the holidays it was replaced by a giant digital screen without any apparent notice.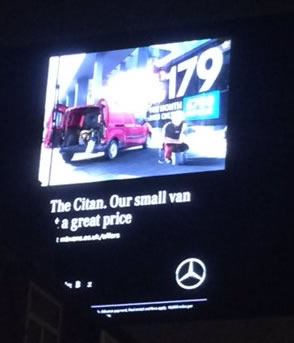 The replacement advertising hoarding (Picture: Brentford Heritage)
JC Decaux, whose UK HQ is in Brentford, applied to change the sign in 2013 but their proposal for a replacement was rejected. The decision was later overturned by the Planning Inspectorate but the ruling specificed that any replacement should replicate the existing Lucozade sign in a modern format.
The digital display that now appears is advertising Mercedes vans rather than energy drinks and has been met with anger from residents many of whom have taken to twitter to express their outrage. Presenter and W4 resident, Jeremy Vine, described it as a 'neon nightmare'.
A petition has been set up with change.org calling on the Prime Minister to:
' Bring back Brentford's iconic Lucozade sign. Remove the hideous digital advertising.'
The man who set up the petition, which currently has over 5,726 signatures, is Gary Farnan, from Isleworth, he said:
'' This is similar to the way the iconic Firestones building was knocked down, which was done during a bank holiday break, so that there could be no objections.
''Please sign the petition to get 100,000 signatures and raise support for not only Brentford and its boroughs residents, who have enjoyed this sign for years, but those who enjoy the history of this sign, and those who enter London each day and enjoy seeing this sign, and want it BACK.''
Nina Meusberger, head of marketing at Lucozade Energy, said: "We're grateful for the public's appreciation for the iconic Lucozade Energy sign which was displayed alongside the M4 in Brentford. We have preserved and stored the sign since the decision, which was beyond our control, was made to turn the space into a digital advertising board.
"We are considering various options of where to place it next."
The leader of Hounslow Council, Steve Curran, has ordered the planning department to investigate whether the change is legal. He said:
"It's a really important local landmark that we wouldn't want to lose. We need to find out who removed it and why.''
JC Decaux has declined to comment on the removal of the sign
7th January 2016