Cookery presenter Lorraine Pascal in Acton
Our roving photographer, Tom Doran, spotted popular cookery presenter Lorraine Pascal in Baldwyn Gardens in W3 this morning (18th June).
Lorraine, - a successful model - gave it all up to follow her passion for cooking and has had three successful prime time BBC 2 cookery series - repeated on BBC 1.
This former student from the University of West London, is currently fiming her new series 'Fast, Fresh and Easy' due to be shown in August.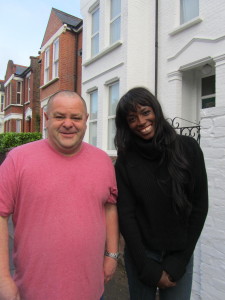 June 18th 2012