Local artist has exhibition at The Lexi Cinema
An Acton woman has been given the opportunity to exhibit her art in a cinema in North London.
The Lexi Cinema in Kensal Rise will be showing the work of Natasha Westlake who goes by the the name Eyedetic.
Natasha, from South Acton, says the cinema was looking for pieces from artists whose work had a film edge to it.
Her main art form is film as well as Audio visual installations and performances, and she had a range of sketches turned into screen prints that The Lexi wanted to display.
''Drawing on her experience in theatre and puppetry, and inspired by a love of unconventional story telling and film, (eye)detic produces carefully crafted art installations, animations, performance and video art, to inspire, intrigue and provoke thought.''
All screen prints are for sale and prices range from £30-60 unframed, £50-100 framed.
The six week exhibition starts 1st April and runs until 9th May.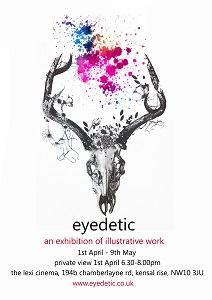 1st April 2015