Blaze happened at a busy time over the weekend
The fire service was called to Acton's new leisure centre on Saturday (23rd August) after a blaze broke out in a store room. Two engines were called at 11.53am and around 50 people had already been evacuated from the building.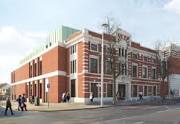 A spokesperson for Everyone Active said: ''There was a small fire contained in one of the offices at Acton Leisure Centre on Saturday. The fire alarm sounded, the centre was successfully evacuated by the staff on site and the Fire Service were called. Nobody was harmed in the incident and we are awaiting the report from the Fire Service to confirm the reason for the fire. The centre opened again at midday on Sunday and the teaching pool has now reopened.''
Meanwhile, Everyone Active Acton Centre - in partnership with Ealing Council - is hosting a charity coffee day on Monday 1 September from 09:00-18:00.
Members and non-members are warmly invited to pop in for a cup of tea or coffee and a piece of cake and all proceeds will be donated to Macmillan Cancer Support. The event has been organised by Veronica Mullings and Harriet Moreton, who both work at the centre, and will take place in the foyer.
"Macmillan Cancer Support is a very important charity and we are only too pleased to host an open coffee morning and cake sale to raise funds to help support their invaluable work," says Everyone Active General Manger Luke Charlton. "Everyone is welcome to drop in for a cuppa and keen cooks are also invited to bring in some homemade cakes to sell."
The Everyone Active Acton centre can be found at High Street, Acton, London, W3 6NE. For more information, call the centre on 0208 825 9001 or visit www.everyoneactive.com.
27th August 2014