Huge pile of debris left just before the storm
Participate
Report fly-tipping
Phone Grimebusters - our 24-hour, 7 day a week hotline:
Tel: (020) 8825 8825 - the council will aim to take action within 24 hours.
You will need to provide the following information:
exact location
description of items
the approximate size of waste (more or less than three cubic metres - half a standard sized skip)
Storm Hits The Borough Causing Chaos
Sign up for our free newsletter

Comment on this story on the
The below picture was sent in by a reader who tells us the pile of rubbish was dumped on Vyner Road in W3 last night at 10.30pm.
She says '' The debris was all over the road and we then had a storm. These people need to be arrested, someone could have been seriously hurt.''
Police were called (on 101) and they placed the cones around the rubbish.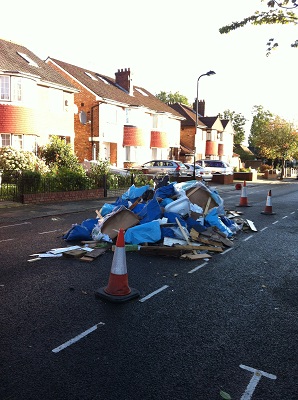 Ealing Council say they treat fly-tipping as a serious offence and will prosecute anyone caught fly-tipping.
28th October 2013