Residents treated for breathing problems
Participate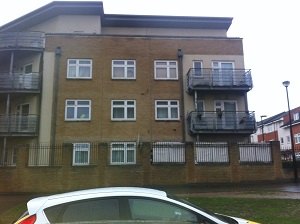 Images courtesy J Kelly
33 people have been led to safety during a fire that damaged a communal hallway in a block of flats on Newport Road in Acton early this morning.
Two women were treated on the scene for smoke inhalation and two others were taken to hospital to be treated for the effects of the smoke.
A number of residents stayed on the phone to Control officers during the fire, who provided fire survival guidance and advice for staying as safe as possible in the event of a fire.
Station Manager Gary Squires, who was at the scene, said: ''Firefighters and Control officers did very well with this challenging incident, and the fire was brought under control quickly. There was a lot of black smoke in the corridor when we arrived.
"People did the right thing by staying in their flats until our crews were able to reach them - purpose built flats are designed to withstand fire for some time, and it would have been much more dangerous to go through the smoke-filled corridors to get out.''
Four fire engines went to the scene with 21 firefighters and officers from Acton, Chiswick, and Hammersmith fire stations.
The Brigade was called at 0106 and the fire was under control at 0234.
The cause of the fire is under investigation.
7th January 2014