Campaigners say there's been huge a response following publicity about proposals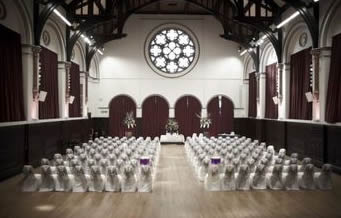 Campaigners say there has been an overwhelming response from residents about proposed changes to Ealing Town Hall resulting in the consultation deadline being extended.
It follows accusations that Ealing Council failed to consult properly and has mislead the public over changes that could see community facilities transferred to private ownership.
Mastcraft has been appointed to redevelop the grade II listed building turning it into a a 140-bed hotel with a lease for 245 years. The Council remain freeholders and will keep the east wing with the Council Chamber and marriage rooms, but Victoria Hall and Princes Rooms form part of the deal with the developers.
Victoria Hall was built in 1893 for 'charitable purposes' and from public donations and since then has belonged to a charitable trust - the trustees being elected councillors.
Now the Council is seeking the Charity Commission's permission to vary parts of the Trust prior to the disposal or the Town Hall, but before this can be done they must consult 'key' stakeholders about the plans.
A consultation was launched on the council's website on 3 November, however it wasn't widely publicised and was originally due to end this week (12 January 2018)
'Ealing Voice' campaigners objected and are seeking more information about the deal and a spokesperson told us: '' The publicity surrounding the Council's proposals has created a lot of interest - and this is evidenced by the large number of responses to the consultation so far.''
Ealing Council has now agreed to extend the deadline. A spokesperson said: '' The consultation, which was launched on 3 November 2017, has been extended to 9 February 2018 in response to local interest and requests to extend the consultation deadline.''
To have your say about the proposals email MooreD@Ealing.gov.uk at Ealing Council.
16th January 2018