Residents of W3 woken in early hours
Loud noises around the Acton area in the early hours of Monday morning have been identified as work on the £16 billion Crossrail project.
The rail link - scheduled for completion in 2018 - will have eight new stations and pass through Southall, Hanwell, West Ealing, Ealing Broadway and Acton Main Line. There will be 120 kilometres of track linking Maidenhead in Berkshire to Shenfield in Essex.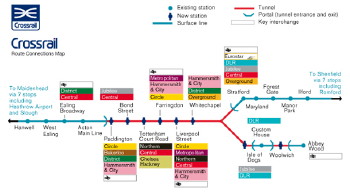 Local Acton residents reported hearing the metallic sounds in West Acton, Poets Corner and Western Avenue at around 1am on 4th February.
Network rail spoksperson, Olivia White, told us:
'' We are very sorry for any disruption caused to residents by our work. On Monday morning, Network Rail was undertaking piling needed for the new overhead line equipment, as part of the Crossrail programme.
''This work had to take place when the trains were not running, which is why it was scheduled over night. We need to finish piling around Noel Road Bridge and are currently planning these work times.
''We will notify residents close to the work as soon as dates and times are confirmed. We are working to reduce the impact of work on the local community as much as possible but realise those close to the piling work may hear some noise, which can be noticeable especially at night. We would like to thank residents for their continued patience as this work progresses.''
''We are doing a number of bits of work across Ealing as part of Crossrail. At Acton Freight Yard we are building an underpass - technically referred to as a diveunder - at the western end of Acton Yard. This will allow westbound freight trains to leave the yard without affecting eastbound trains, providing a more reliable service for passengers. As part of this project we are installing new overhead line equipment.''
Below is a timetable of work for the Acton diveunder.
2013
. Piling and track work
. Excavating the eastern half of diveunder
. Work on overhead line equipment
2014
. Excavating western half of diveunder
. Track work
2015
. Removal of the double junction
. Completion of eastern section of diveunder
. Piling and track work . Work on overhead line equipment
2016
. Install eastern access to diveunder
. Work on overhead line equipment
. Final fit-out of yard and diveunder
To receive email notifications about planned Crossrail works and tunnelling progress you can sign up to the station mailing lists online or by contacting their Helpdesk team.
6th February 2013