Court bench and cell doors include
Acton Magistrates Court is turning over a new leaf to provide home buyers with the chance to create their own living space.
Verve properties has restored the Edwardian building to provide six open plan double height 'shells' ranging from 1,000 to 2,450 sq ft.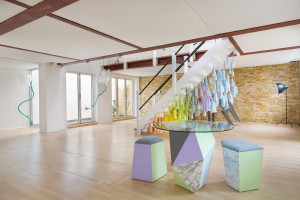 The original buildings, on Winchester Street off Acton High Street, are brick and stone - and now benefit from new roofs windows and services. The development keeps its traditional character with a well insulated modern living space.
Each unit also comes complete with one of the original court benches and cell doors for the new owners to include if they wish to be reminded of the building's history.
.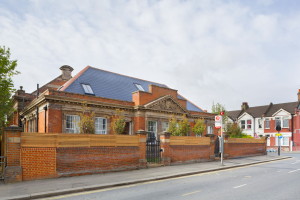 The development is just the latest part of Acton's regeneration which will see new a new town hall, leisure and residential projects by 2014 - and will also be the main hub of the Cross Rail Link.
The six shells all include:
New roof, windows and doors
Buildings regulation compliant party walls and floors. Damp proof treatment
Reclaimed maple flooring
Gas, electric, water, phone and cable connections
Outside space and external landscaping
gated car parking
option of kitchen/bathroom pod to make mortgage compliant
The shells do not include:
internal partition walls
plumbing and electrical installations
kitchen and bathrooms
insulation and plasterboard to ceilings (to enable easier fixing of plumbing and electrical)
Ashley Nicholson, Verve director, says: ''A Court House provides the opportunity for all those who have spent years watching TV programmes showing people converting amazing buildings but cannot find anything like that in London, to fulfil their design fantasies. Here they can buy a beautiful restored, high quality, building flooded with natural light that is a blank canvass internally devoid of walls to let their imagination run wild."
Caroline Doggart of Courthouses W3 says: "Local re-sale properties in W3 have been flying off the shelves for around £600 per sq ft and both new build and wholly refurbished homes are in short supply. At around £400 per sq ft, The Courthouses offer purchasers the chance to add value to a freehold home and invest in an area which is experiencing impressive capital appreciation and rising rental yields."
Prices start at £385,000 (corrected) rising to ££900,000

Court House W3

Address

Size

(Sq ft )

Available

Price

2 Salisbury Street

1635

Spring 2013

£595,000

1 Salisbury Street

1000

Spring 2013

£385,000

59 Winchester Street

1650

Spring 2013

£650,000

58 Winchester Street

2450

Spring 2013

£900,000

57 Winchester Street

1520

Spring 2013

£595,000

56 Winchester Street

2060

Spring 2013

£775,000

55 Winchester Street

1733

Autumn 2013

TBA

Flat 2 - 54 W. S.

1302

Spring 2014

TBA

Flat 1 - 54 W. S.

1023

Spring 2014

TBA
6th June 2013