Commended for friendly and jovial customer service team
Acton Central has been named as London Overground's 'Station of the Year' 2014.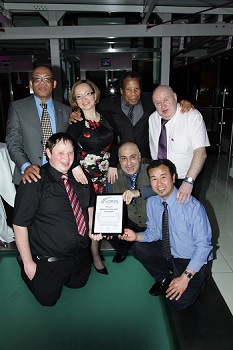 It was awarded at the annual London Overground Rail Operations Limited (LOROL) 'Shining Star Awards', to the station where the staff have made the biggest impact over the course of the year in areas such as customer service, revenue protection and safety.
Judges commended Acton Central for the friendly and jovial customer service provided by the team which has seen them build up personal relationships with the local community.
They were also praised for the way they work together and support each other to deliver a timely, efficient and effective service, resulting in the station setting a very high standard in areas such as team work and passenger assistance and for the London Overground as a whole.
Commenting on the award, Julian Moosai, Head of Stations, who nominated Acton Central, said: "A real sense of local pride exists at this location where the staff bond extremely well together and see themselves as part of an "Acton family" which includes their customers. This pride drives a passion to deliver great customer service. As such, the station staff strive for ways to make a difference with floral displays, a book club and community noticeboard."
Kasia Gnuetk Masters, Customer Host at Acton Central, said: "We are delighted to win the Station of the Year award; it feels great to be a part of a winning team and the sense of achievement is very satisfying. We always aim to be professional and provide exceptional customer service; treat everyone with respect; and maintain consistently high standards. This is why I think we were top this year.
"Acton Central has a diverse community and we feel lucky to have a share in the local community spirit which makes being at work every day much more pleasurable. We know a lot of the local residents via the station Book Swap scheme and many of our regular customers also know us all by name."
Acton Central is also a finalist at the upcoming London Transport Awards on 6 March 2014 and was a finalist at the European Congress Awards in November 2013.
LOROL operates London Overground rail services on behalf of TfL. There are 57 London Overground managed stations and 83 stations on the London Overground network.
18th February 2014