Cat and kitten found outside local vets
Participate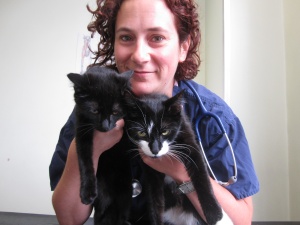 Genevieve with Yoko and Ono
Anyone interested in offering a loving home to Yoko, Ono or both is asked to contact The Goddard Veterinary Group in Acton is based at 220 Horn Lane, London W3 6PL. It can be contacted on 0208 896 0398.
A young cat and her kitten have been found dumped outside a vets in Acton.
The semi-longhaired cat and kitten were found by a neighbour outside Goddard Veterinary Practice and taken in overnight.
They had been left in a cat carrier with just a boiled egg for food. They were shaking with fear when they were found, probably because the road next to the practice is very noisy.
Vet Genevieve Touzel explains:
"When they were first brought to us they were in a state of great distress. We think the mum is about a year to 18 months old and her kitten is about 16 weeks. We've given them a full health check, deflead them and neutered them. They are now relaxing into beautiful, friendly and playful cats. We've called the Mum Yoko and her black kitten, Ono.

She continued: "We know times are hard but urge people who are having problems caring for their pets to contact local rescue charities or their vet rather than simply abandoning them. There is help available and animals shouldn't be left to suffer in this way''.
Anyone interested in caring for Yoko and/or Ono should contact Goddard Veterinary Group 0208 896 0398.
24th July 2013