Senior and Junior National champions
Acton army cadets have scooped top prizes at a national football competition.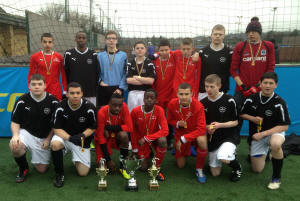 The long journey to Cumbria from West London was worthwhile for 204 White City (Para) and 202 Acton (Royal Engineers) Detachments of Middlesex and North West London Army Cadets.
They hoped that in representing the London region, both the Seniors and Juniors National football trophies might be theirs – this double whammy happened in 2012 so staying tops was a must.
Both teams' dreams were realised and from ten regional teams, they scooped both the senior and junior national championship trophies, bringing them back to London last Sunday evening (16th March).
As Sergeant Major Clahar's , Acton Junior team eased through group one to the top of the table, they conceded only one goal. Acton went on to the final where they beat Eastern Region a resounding 7-0.
In the Senior's finals, Colour Sergeant Lindsay's White City team took on Western England. While that region were hoping to be the new trophy winners, Acton with a strong record to maintain, were cheered on loudly to a 3-1 easy victory.
204 White City cadets have now won three years in a row, successfully defending and retaining their title as best ACF senior football team across the UK. For the second year running 202 Acton cadets grabbed the best ACF junior football team trophy across the UK in great style.
Colonel Mark Hodson TD , Sector Commandant said " This is tremendous news. We are very proud to have represented London region and come back with both trophies Well done to all those involved, adult volunteers for making it happen and cadets for playing so determinedly well alike. This is really good news, everyone should be rightfully proud".
Training starts right away in West London to ensure that an equally good result is achieved next year.
20th March 2013