Steyne Road and Horn Lane would no longer be served
Transport for London (TfL) want to extend bus route number 70 - as far as Chiswick Business Park (CBP) - but this would mean stops at Steyne Road and Horn Lane in W3 would no longer be served.
Currently the 70 runs between South Kensington and Acton approximately every 10 minutes (Monday to Saturday daily), every 15 minutes during Sunday shopping hours and every 20 minutes late evenings.
TfL want it to go further and cover Chiswick Business Park (CBP).
This proposal would mean diverting route 70 at Acton Market Place, and travel along Acton High Street, Gunnersbury Lane, Acton Town Station, Bollo Lane and Stanhope Way to the bus stand at the northern end of CBP.
Between Gunnersbury Lane and Acton High Street it would serve stops currently used by the E3 in both directions.
The bus stops on Horn Lane and Steyne Road would no longer be served by the 70, though the 266 will continue to serve stop N in Steyne Road. The 70 would serve existing route E3 stops on Gunnersbury Lane and route 440 stops on Bollo Lane. The proposals would see a new stop on Bollo Lane near Enfield Road for passengers using Acton Town Station. For this to happen Ealing Council would need to convert five parking bays in front of Webb Court into the new bus stop.
The consultation runs until December 19th 2014 .
You can read more and give your feedback to TfL here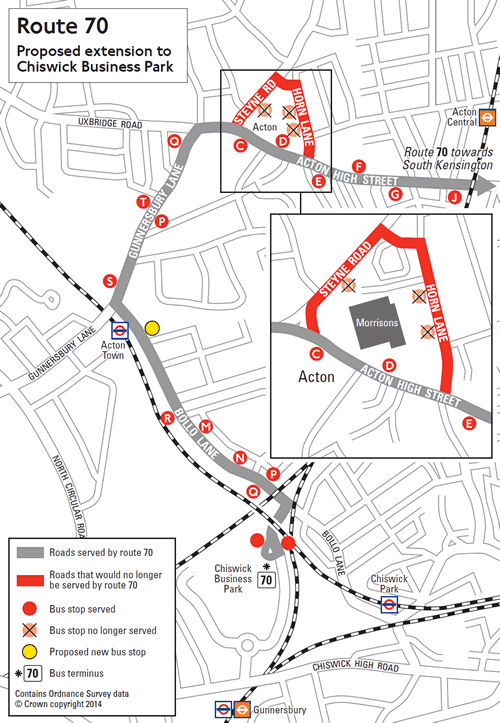 11th November 2014