Acton Lane bridge repair improvements for pedestrians
The dilapidated railway bridge spanning Acton Lane between Bollo Bridge Road and Fletcher Road is due for a mini-pedestrian makeover.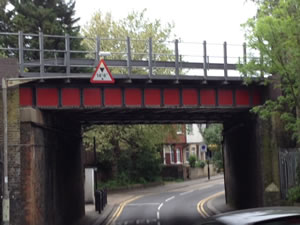 Network Rail is set to begin a major repair programme on the bridge tomorrow (29th March), working overnight and at the weekend in order to try and finish within two weeks. The road will be closed over the school Easter holidays while there is less traffic.
The council has been liasing with Network Rail and the local ward forum to agree on works to improve the pathway for pedestrians.
Initially this will include - painting of soffit and parapet - removal of vegetation from structure - reinstalling/repairing rain water goods - installing pigeon proofing.
The council has also asked Network Rail to remove redundant pipework on the bridge and to jet wash the inner walls of the bridge.
Further improvements being discussed by local councillors involve improving the paving and footway, adding more lighting to the structure, reconfiguring footways and carriageway (such as possible narrowing of footway under the bridge on one side and widening of walkway on the other) - possible demolition / reduction of the wall of the private property at the south of the bridge. - enhanced security features - more bridge warning signs.
These measures will be reviewed, designed and costed in the coming months with a view to potential implementation later in the year.
Residents can call Network Rail's 24 hour helpline on 08457 11 41 41 for more information about the bridge repairs.
March 28th 2013