Counter Terrorism Officers now involved in investigation
Police have named a man shot dead in a suspected assasination as Abdul Hadi Arwani, the former imam at the An-noor Masjid mosque in Acton. The victim resided with his family in the W12 area.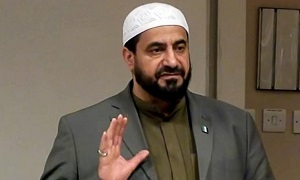 (You Tube)
They were called by the London Ambulance Service at 11:15hrs on Tuesday 7th April to reports of a man suffering from what are believed to be gun injuries to his chest.

On arrival Mr Arwani was found sitting in a dark coloured Volkswagen Passat parked in Greenhill, junction with The Paddocks in Wembley.
Detectives from the Counter Terrorism Command (SO15) are leading the investigation because of their expertise in the management of investigations with international dimensions and an established liaison network abroad.

The investigation remains in its very early stages and officers remain open-minded about the motive.

Specially trained family liaison officers continue to provide support to Mr Arwani's family at this very difficult time.

A post-mortem examination is scheduled for Thursday, 9 April.

Police appeal to anyone with information to contact Crimestoppers on 0800 555 111.
Arwani was a fierce critic of Syrian President Bashar -al- Assad and considered an authority on Islamic marriage contracts and divorce law.
He had studied at the Faculty of Shariah (Islamic law) in Jordan, and was a teacher in various Islamic seminaries in Slough and London, according to the London College of Islamic Studies.
8th April 2015