Help transform library into new arts venue
Momentum is building in a campaign to transform Acton's old library into an arts centre.
The team behind the project want to save the vacant Victorian building from being turned into flats and have a vision that it will become a multi-use centre for 'theatre, film, music & dance, comedy, food, education and inspiration.'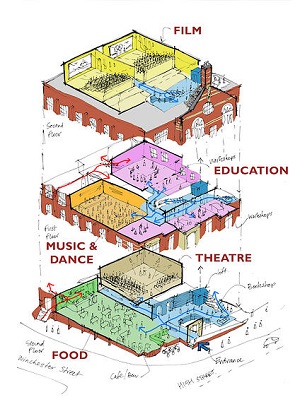 Glynne Steele, who is project coordinator alongside Julie Saunders says:

''Julie and I have made it our mission to raise the profile of this cause and to ensure we save the library to make it the hub of Acton as we have some wonderful ideas that will allow everyone to enjoy this fantastic building.''
They have found support throughout W3 and, unexpectedly from local estate agents Orchards of London.
Rudolph Diesel, Marketing Director of Orchards says:
''We ought to all stand together and support proactive individuals like Glynne and Julie. It is rather exciting to be part of this movement/project and this will go a long way in creating an exciting high street brimming with possibilities.''
The team have set up an online survey which they want to use to show the Council there is clear community backing for their project.
The target for responses is 5,000 and it's nearly halfway there.
For more information, phone Glynne or Julie on 07974 090 231. To complete the survey, visit www.oldlibraryacton.co.uk .


21st May 2014