Exhibition featuring local artists
The W3 gallery is pleased to announce that the Affordable Art Exhibition with the strap line 'Small size, small price' is back throughout December.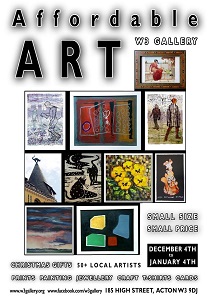 The exhibition features the work of 50+ local artists and operates like a shop throughout this period. The original art ranges from prints and paintings, to jewelry and craft, t-shirts and cards. The common theme is that everything featured in the exhibition is locally produced and affordable. Operating as a shop throughout the month, you can buy your unique Christmas gifts locally.
The gallery is staffed by volunteers and is open Tuesday – Sundays (closed on Mondays, Xmas day & New Years). The Affordable Art Exhibition Opening Event takes place Thursday 4th December at 6 pm. The exhibition continues until 4th January 2015.
Focus on Alison Lumb
Alison lives in Acton and is a practising fine artist. She has taught workshops in art and filmmaking for local community organisations, and was previously a television drama producer for the BBC and the independent sector.
Alison explores the experience of living in and moving around the urban landscape; how place, time and purpose influence the way we encounter one another . She has an enduring interest in the nature of perception, of how we perceive and construct our world; the mix of what is out there and what is remembered, desired or feared.
2nd December 2014