Teachers' union striking over plans for the Ark group to take over
Parents of children at Acton High School are angry at the ongoing disruption caused by the National Education Union (NEU) who are opposed to the planned takeover by the Ark group.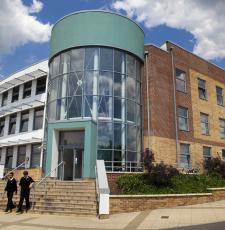 The school on Gunnersbury Lane is in Special Measures following the latest inspection and the Governors had resolved to hand control over to the Ark network after discussions with the Department for Education and Ealing Council. The NEU are not objecting to an academy takeover in principle but say that they believe Ark is an unsuitable partner for the school.
Members of the union have been taking strike action and further action is planned on 22, 23, 24 May and 5, 6, & 7 June. They plan a public rally against the Ark takeover by St Mary's Church, 1 The Mount, W3 9NW (Opposite Morrisons) on Wednesday 16 May at 6.45pm.
Ark say they will continue to talk and listen to staff concerns and agreed to a meeting with the union about the takeover.
A growing number of parents are angry with the disruption caused by the union and have outlined their views to ActonW3.com, published in full below:
Parents Against Current Strike Action at Acton High School.

Like a lot of parents, we all value education highly and have supported AHS through thick and thin as it is clear that not all the issues at the school are of its own making, nor are they easy to manage. However, with recent events as they are, we are now faced with the prospect of finding new schools for our children as the roller coaster experience of being an AHS parent/pupil is getting too much to bear.

After the school was put into special measures last year (following an OFSTED inspection), it became clear that the school would now have to be academised. Some of us were relieved as the never-ending inconsistencies at the school have been very hard to navigate and have compromised our faith in the school. Others of us, who are not naturally in favour of academisation, were questioning but understood that it was a foregone conclusion and felt the right thing to do was be a supportive partner in the process.

What has unfolded since March this year has taken all of us aback. Strike action (now at three days a week until the end of the academic year) along with leaflets (with inaccurate information and misrepresenting parents' feelings) being distributed outside local supermarkets, train and tube stations and most shockingly, feeder primary schools have stunned us. We wrote to striking staff and met with NEU representatives and the staff. We voiced our profound concerns at what this action was doing to all the pupils and families at AHS, especially the ones sitting GCSE and A'level exams in the coming weeks.

The pupils are finding the whole situation increasingly unsettling and stressful. They have been spoken to by some staff who have used scaremongering tactics to turn them off Ark. Their levels of anxiety have increased whilst the security they felt in their school community is rapidly falling away. Children are sauntering in late. If the staff feel school is not worth being at, why should they make the effort? Going to school on a Monday and then not returning until the Friday feels pointless. The most conscientious of our children are asking us not to send them in as the strain of the situation is becoming harder to manage, by nature they like consistency. Children who were so loyal to their school are now accompanying parents on tours of other schools as their and their parents' loyalty has waned completely but with a heavy heart.

The parents, the ones that work and the ones that do not, are struggling to manage the situation too. We are having to look for childcare, take our children to work, send them to relatives. Others have bored and frustrated teenagers either at home all day or out with their friends when they should be at school learning and socialising in the safety of their school. Family life has suddenly become quite chaotic for quite a lot of families in Acton.

We also voiced our concerns at the naivety of leafleting outside feeder schools where the reputation of AHS is already dismally poor and its impact on potential families thinking about sending their children to AHS will be enormous. We asked the NEU representative to de-escalate the strikes as they were hurting the wrong people and in the case of AHS, we recognised that a radical change is required for the school to, once and for all, be a school worthy of the children of the local community.

The headline "Kids in Prison Academy", equating Ark to a Victorian prison, is upsetting, inaccurate and very irresponsible. Our children go to school there and if TUPE is successfully administered with Ark, they will continue to remain there. Do the NEU not care about their well-being and self-esteem? Why would you deliberately draw up battle lines which treat our children's well-being as collateral damage?

For a long time, AHS has had a negative reputation within our community and a lot of parents would like to see the school change radically. Neither the reputation, nor the desire for radical change is without reason. AHS has been an under performing school for sometime.

Whilst we take on board all the concerns raised around Ark, we feel it is a too late for us to wait for a new sponsor now. We are also concerned that the NEU members, lead by a very anti-Ark representative, will continue to strike regardless of the parents' and children's wishes, and we are the main stakeholders here.

Ark is not only the available sponsor, but they also have shown that they can successfully and rapidly improve schools and this is what AHS needs. It is a choice approved by the local authority and by the current senior leadership team at AHS, in whom we trust. Whilst remaining realistic that these changes will not happen overnight, we are committed to working with Ark and look forward to an improved state, community school.

The children of Acton deserve the best non-selective school they can possibly have. The NEU need to de-escalate their strikes and focus their energies on negotiations around a table.

Please support us to de-escalate the strikes by asking striking staff to return to their pupils. They now have Ealing Council, the Governing Board of AHS and senior delegates from Ark at the table ready to discuss their concerns.

To all of those who want to read a parent's perspective on Acton High, please visit the forum: Acton High School - one parents's perspective on what a better school it may be! (07/05/18).

May 14, 2018