72 apartments for private rent available in 12 storey block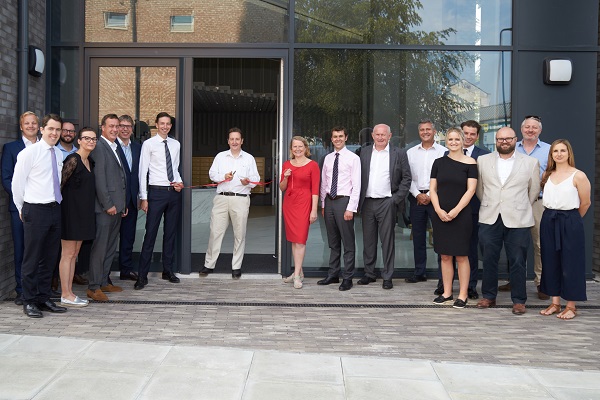 A new block of flats for private rent has been unveiled in Acton.
The twelve storey apartment building of 72 flats is on the corner of Bollo Lane and Bollo Bridge Road and part of the redevelopment of the former South Acton Estate, now known as Acton Gardens. It was officially opened by Councillor Julian Bell, Leader of Ealing Council.
These are the first apartments in Acton Gardens for private rent to be delivered as part of a strategy to increase housing supply and homes for rent across the London Borough of Ealing.
The regeneration project is a partnership between Ealing Council, housing association L&Q and home builder Countryside.
These new homes have been built as part of Phase 5 of the regeneration of the former South Acton estate. This phase consists of 129 affordable homes for rent and sale, 72 private rental homes, and 70 homes for sale at market prices.
1,346 new homes have been built or are currently under construction in Acton Gardens to date, replacing old council owned properties of the South Acton estate. New social and community facilities will also be provided centred around a 55,000 sq ft hub. The programme has 11 phases, starting in 2011 and due for completion by the end of 2028.
David Stevenson, Head of Joint Ventures, Development and Regeneration (North) at L&Q, said, "The new private rented apartments at Acton Gardens will provide a high quality and modern homes for a range of families and young professionals who are seeking choice, security of tenure, affordability and flexibility. These new homes are delivered as part of our long-term commitment to regenerating the South Acton estate and increasing the number of quality homes available for rent in the London Borough of Ealing".
Acton Gardens has funded local projects with residents through the Community Chest, is winner of a Regeneration Award and a Project Award at the Housing Design Awards 2016, and in 2014 also won the Regeneration Project of the Year at the Evening Standard New Homes Awards.
Ealing Council Leader, Councilor Julian Bell said, "We are delighted with the completion of the latest phase of our regeneration of South Acton. As well as breathing new life into the area, this exciting development will also provide homes for affordable rent whilst increasing the rate of housing delivery, which will help our fight to tackle London's housing crisis.
"The sale and private rental of some of the properties at Acton Gardens will help fund our plans to deliver 2,500 high quality, genuinely affordable homes for the borough over the next four years, creating a modern, sustainable community."
26th August 2018