Supporting Small Business Saturday
Small Business Saturday takes place on one of the busiest shopping days of the year - Saturday December 7th .
It's all about encouraging everyone in the UK to support small businesses, both on the day and beyond.
To show our support for our local traders - and for one week only - Acton W3.com is offering free advertising*.
Send us 20 words about your business and web link and we will feature you in the newsletter of Thursday 5th December and promote you on the site.
Contact: editor@actonw3.com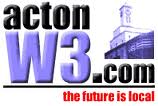 *please register to take part in this free offer
21st November 2013