Acton Vale pub makes way for more homes
Plans are underway to turn the former Kings Arms pub on The Vale into a six storey block of flats.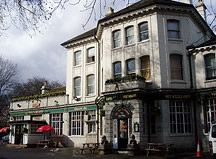 The pub ceased trading two years ago and planning permission to turn it into 50 flats ( 20 x 1 bed, 19 x 2 bed, 10 x 3 bed and 1 x 4 bed) was granted last year.
The current application a 'Deed of Variation to S106 Agreement - Affordable Housing' is to reduce the number of affordable housing units in the new block from 14 to 11.
The Kings Arms can be dated back to the 18th Century - originally a tavern built alongside a tollgate four miles form Tyburn - where convicted criminals were hung.
People being taken to Tyburn for execution were often allowed 'one for the road' - so many of those about to be hanged may well have had their last drink in the Kings Arms.
The Acton Vale tollgate ceased in 1872. Twelve years later Fullers and the Goldsmith company decided to rebuild the pub incorporating a stable at the present site on the corner of East Acton Lane. Major alterations were made in 1906 and again in 1910. In 1926 the freehold passed solely to Fullers.
Consultation runs until 6th March 2015
4 March 2015